Motivational speaker Nancy McFadden M.A.
Find success, achieve your goals and build your self esteem with Nancy McFadden M.A.
Who is She?
After 15 years of learning, teaching, coaching, motivating and guiding.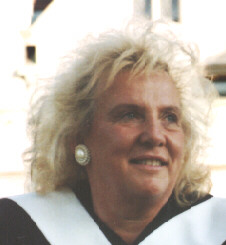 NANCY MCFADDEN M.A.
Is well on her way to becoming the # 1 motivational speaker in North America.
---
WHO IS NANCY MCFADDEN M.A.?
Nancy McFadden M.A. is a psychotherapist and a consultant to personal and professional audiences. Her Honors and Masters thesis were both directed toward researching helplessness and personal power. As a University instructor, and a developer and facilitator of workshops and seminars for over 15 years, you will find her to be a dynamic motivational instructor with a powerful message and valuable information geared to creative successes and increased personal power. Her clear direction and humorous view of our fears and hang-ups will leave you rethinking your own personal value as well as your potential for an enhanced quality lifestyle.

Nancy is currently the resident psychotherapist for the "Lynn Martin Show" CKLW 800am Detroit

---


Improve Health Create Wealth Improve Relationships (personal and professional)

Nancy has made her self help principles for not just hoping for success but "Making it Happen" available in many different ways to make it happen for everyone.

If you are looking for a Positive Change in your life, then check out some of our

AUDIO
BOOK
Check out our free daily self help motivational video
ORDER WITH US AND

SAVE 15% OVER BOOKSTORE PRICES.
HOW MCFADDEN SEMINARS GOT STARTED
In 1991 Nancy McFadden M.A. was a professor at the University of Windsor in Ontario, Canada.

She was regularly asked to be a guest speaker for different organizations. While putting together a presentation for Chrysler Canada she had asked her son Eric who then was taking marketing classes at the local college to help her put together some hand outs for the participants.

Eric had suggested to Nancy that since she was asked to be a guest speaker so often and had a variety of topics to speak on, that they produce their own seminar.

Their first venture was a success and McFadden Seminars was born.

After conducting many seminars on their own Nancy had many requests for audiotapes of the seminars. After several attempts at trying to record the seminars Eric and Nancy decided to produce "The Life Skills Series".

After one afternoon of watching Oprah. Nancy was inspired to write a book that was geared specifically for women.

After the tremendous success in Windsor, McFadden Seminars spread to the United States. And now our goal is to be the number one motivational program in America.
---
"YOU GOTTA BELIEVE" Windsor Star
---
Our operators are standing by, so call 1-954-565-8549 now to take advantage of this exclusive offer. If you need a little more enticement, take a look at theFree self help Seminar